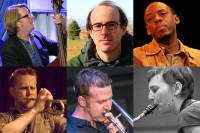 Ken Thomson Sextet at Korzo in Brooklyn, June 30, 2015
A brand new set of music I've been working on for the past six months, created for a group of brilliant musicians never-before-assembled, with myself playing alto saxophone, Anna Webber, tenor saxophone, Russ Johnson, trumpet, Jacob Garchik, trombone, Adam Armstrong, bass, EJ Strickland, drums
Downbeat feature
Thanks to writer Alain Drouot for the Players feature in Downbeat in their January 2015 issue.
New Music Box interview
A new video interview and feature by Molly Sheridan is up now, focusing on my life as a composer.
SETTLE – live in Minneapolis
A highlight from Fall of 2014, a complete live set of Slow/Fast from the Icehouse in Minneapolis.  Multitracked and mixed with video.  Check it out!
Newest CD, Settle

Settle is AVAILABLE NOW!
Settle is featured on a recent episode of WNYC's New Sounds.  Also praised in The New York Times and Time Out NY, check out this 5-star review at All About Jazz which calls it "an album for the ages."