Gutbucket DANCE
Thanks for coming by!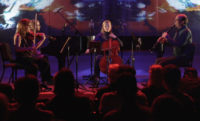 I have formed a new collaborative group with Olivia De Prato (violin), Ashley Bathgate (cello), and Karl Larson (piano) – we are called Anzû Quartet – and we are formed based on the instrumentation of the essential Olivier Messiaen work "Quartet for the End of Time."  We have performed and recorded this piece throughout the Fall of 2021 and will have a new recording of it coming out in the 2022-23 season.  For now, you can check out our video on UCLA's performing arts series here (free video but you must register to watch).
In January 2022, I will have two new works being premiered — one, called "Performative," is my first new work for the Bang on a Can All-Stars since 2006 and for a new 9-piece expanded instrumentation, to debut at Merkin Concert Hall in NYC and broadcast on WNYC's New Sounds.  Plus a new solo bass clarinet work for Austrian clarinetist Anna Koch.
Bang on a Can will be quite busy this Winter and Spring.  More information is on the All-Stars schedule is on the Bang on a Can website here.